Although I am an Andalusian owner, rider, and lover, the stars aligned allowing me to travel to Portugal for three weeks of which one week was an intensive dressage training program on Lusitanos. I felt this was a fantastic opportunity to test my skills as a rider with emphasis on improving and growing these skills to further develop my own young horse back home. Having only ridden my now 8 year old Andalusian mare the last 4 years I was mindful that perhaps skills previously refined through riding older more highly trained horses were sliding away.
Portugal's climate throughout May and June cannot be faulted- beautiful sunny days and mild nights. The rest of my time in this country was used exploring around Lisbon and the beautiful castles, monuments, and history of this region. Spending half a day at the Museu National dos Coches (National Coach Museum) was amazing- these beautiful coaches had to be seen to be believed. Spanning over two sites, one of which being the old indoor arena for the Royal Riding School, these coaches range in age from the 17th to 20th centuries.
Santo Andre Lusitanos is a gem hidden amongst the suburbs of Lisbon, Portugal. As you drive down the tree lined gravel driveway you feel like you have travelled to a different era. Boasting two arenas (one indoor, one outdoor) this was the perfect location for me to spend a week learning under Antonio Borba Monteiro, the Master of the Portuguese School of Equestrian Art, and his team of impeccably trained Lusitanos.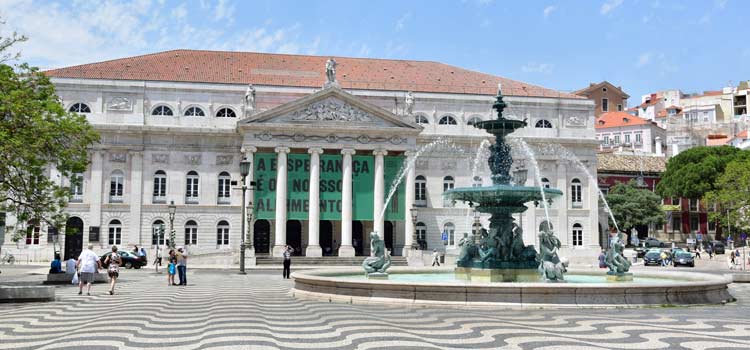 Santo Andre Lusitanos horses and stud were passed down to Antonio by his uncle Dr Guiliherme Borba and is the home to a number of well performed national and international champions including the stallion Rico who was successfully campaigned by Five time Olympian Kyra Kyrklund throughout the UK. (Get 24 Dressage Training Tips from Kyra Kyrklund here)
The range of horses I rode throughout this week were all very different in personality, quirks and traits but all impeccably trained, only difference being some needing a little more leg or driving seat than others. This kept me thinking as a rider to ensure I got the best out of each horse.
My program consisted of two, one hour lessons each day. My trainers, Antonio and Martim Ferreira da Cunha were both very astute and quick to pick up on my weaknesses with fresh eyes and hints and tips to help improve my riding, my aids, understanding of how the horses were working and improving. All lessons were presented with precision, expertise and a hint of humor! I was probably the hardest critic each lesson and if I wasn't happy with how I had the horse going or my riding I was given the opportunity to rectify or "have a play" to get a feel and understand.
Each of the horses I rode were the best teachers of all.
The main 3 horses I rode was an older bay Lusitano stallion; Belo, a bay Lusitano gelding who had competed and won in young horse classes, at prix st George level,  and gave me an amazing feel and taste for piaffe, passage and flying changes (also a son of resident stallion Rico); and a grey Lusitano x Arab gelding who had previously competed in bullfighting and was very soft and responsive to ride.
I learnt as much riding as what I did watching the other students and Antonio and Martim ride. Similar exercises and training techniques used on all horses to improve paces, rhythm, suppleness and cadence whilst ensuring harmony between horse and rider.
My final ride on Portuguese soil was on the one and only Rico. I was a bit nervous about riding a horse of this quality questioning whether my skills were at a good enough level to find the buttons and get harmonious work out of "the King". All of the training and early competitions with Rico were done by Antonio himself and he takes immense pride yet also humbleness in his own role in what this horse has achieved. A small crowd did find its way to the outdoor arena as my lesson commenced as Rico is a favourite with everyone! In this one hour lesson (of which I didn't want to end as felt I could keep riding all day!)
I rode parts of the Grand Prix test including passage, piaffe, tempi changes, canter pirouettes, and trot and canter half passes. This final ride cemented the previous seven days of training and gave me confidence in myself that I could ride these movements and find the buttons to execute these aids whilst maintaining a harmonious and happy working relationship with a range of different horses.
Back home now I have continued my riding and continual striving for this harmony with my own horse using the exercises and training knowledge given to me by both Martim and Antonio.  I continually keep looking back at the photos as still feels surreal and need a reminder that I did do this!
Anyone considering a riding holiday I strongly recommend contacting and having a chat to Santo Andre Lusitanos- the team are passionate about their horses, sharing their knowledge and empowering riders to strive for harmonious relationships with their horses whilst cementing solid training foundations.
Kerri Law is one of Wilson Equestrian's longest and most loyal customers. Anytime something new is brought out, Kerri is very much on to it and loves trying out our newest products.  We thank Kerri so very much for her support over the last few years and hope that we can continue to impress her with our products.
Some of Kerri's Favourites include: